In conjunction with The Justice Club we are giving away CryptoTeddy NFT (above) from Series 1, which also has a hidden prize IN it to discover! A bit of a game.
The giveaway of the above NFT will be selected by random on twitter under the conditions of Retweeting both @CNFTGraphs and https://twitter.com/JusticeClubCNFT and tagging two twitter friends.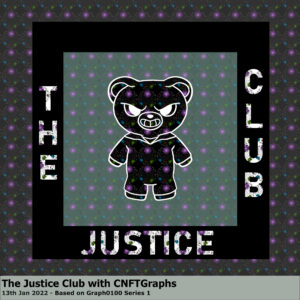 But… There is also another NFT available IN the NFT above! A bit of a crypto game…
Above NFT is available to whoever rescues the teddy first!
Starting point is the giveaway NFT that holds the key to rescue Teddy NFT!
Series 1 – Graph 0135 – as seen here: Graph 0135 (pool.pm)
The NFT/Teddy to rescue is currently held out at: https://pool.pm/addr1qxv3dl4t8vqxyvyw307cmcxcqcz9ygefjtu80ygd0m66yg6gt6gnx53fnxx5r2f56wlrd5r4hus9ez6gwxkgcu89lvaqg2qmv8
We will release clues if/when needed.
If you do rescue the teddy, please contact us with proof that you have the teddy safe and sound in your wallet so we can help you show off that you won!
We will post the solution here once the teddy has been rescued!
Please also visit The Justice Club website where they are still minting and donating to charity!